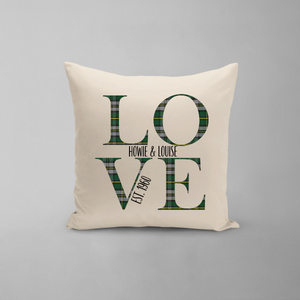 18 x 18 Square Pillow
This pillow is a perfect gift for a Cape Breton couple. 
Just tell us the names and established date!
On the back of every pillow, you can add a sentiment for the person receiving the gift.  Let us know in the Sentiment area what you would like it to say.
For example "Love Mom and Dad"
Please keep in mind that the color of the actual merchandise can slightly vary from the color you see on your monitor, send us an email if you need color confirmation.